Darlehen für Arbeitnehmer
Darlehen für Rentner
Beamtendarlehen
Immobilien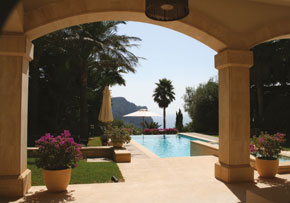 Technical specifications El Olivo:
Lot size:
1750 m2
Habitable surface:
660 m2
Bedrooms:
5 / all baths en suite
Sheltered terraces:
112 m2
Swimming Pool:
12x4,5m
Heating:
Floor heating each room adjustbale
Air Condition:
Cold/Warm each room adjustable
Surveillance:
24h Security Service
Service:
Maitenance, Gardening Pool, Chef, House Keeping, etc.
Price:
On request
of art in a piece of paradise
El Olivo a very modern designed house in the most exclusive residential estate named Las Brisas is for sale. You will find it on the Romantic soth-west coast of Mallorca / Balearics above the famous old harbour of Puerto de Andratx.

When Frederic Boees set foot into the house it was like a rough diamond, the future designer and product developer said. The substance was good but it needed to be shaped and filled with creativity, dreams and hopes. It took time but after all one can say what takes a long time finally turned good. This house combines in an exceptional way the minimalistic clarity of a design – home and the flair of an island in the mediterranean. Located in Puerto de Andratx on Mallorca, this elegant and sensual house displays in a spectacular way what happens when ideas turn into stone. As you enter the house 140° sea view will take your breath away, and as you come back to your senses you quickly get your eyes taken by the stunning art living in this house. Wonderful sculptures for example of the german artist Immendorf will softly push you into a world of class. The pure height of the rooms give this house an even bigger ego, then the ones of the diffrent design aspects given by the numerous well known artists. F.G. Boees who also is a very talented artist explains it like this: Houses are like children, they need time to grow.

Many of the interior design was build by plans that the owner made, nothing is off the shelf. The lamps and furniture throughout the house were designed and handmade for this particular piece of architecture. But not only what you see is great, the perfect sound adventure is getting to you via a perfect Bang&Olufsen sound system, which gives every evening the right atmosphere. After strolling by the waterfall and the pond filled with Kois you will step down into the basement where 5 bedrooms with baths en suite await you. But no time to sleep, you can go through the library, exit onto the wonderful mediterranean terrace and take a dip in the pool, facing the sea and the curvy cliffs. Take your time to dream, as Boees says, let yourself be inspired by your surrounding and fill the house with life, so that you can share your thoughts, dreams and hopes. And this house certainly helps to create this ambience.
call us: +497731 12216